News & Events
Watch our activity in one place
Dancer Bus Receives Golden A' Design Award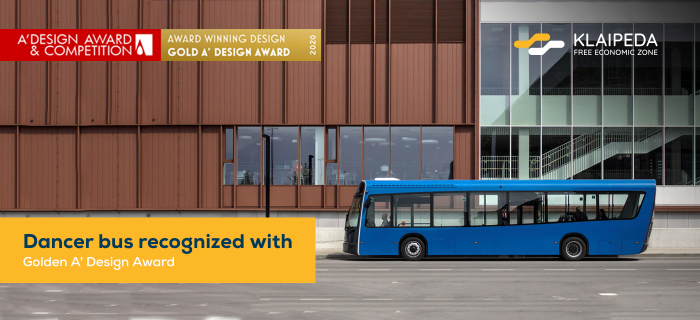 Dancer, the fully electric bus produced by Vejo Projektai in Klaipeda FEZ, has been honored with the famed Golden A' Design Award at Vehicle, Mobility and Transportation Design Competition.
The Klaipeda-made bus was selected as the winner by the respected judging committee of the A' Design Awards & Competitions among thousands of nominations.
According to the jury, the Dancer bus project demonstrates that this product is the lightest electric bus in operation. It needs less energy and batteries than any competitor. In order to simplify things, the usual bus construction is re-engineered from scratch. Dancer's fully composite body draws on sea-yacht design and is made with the significant use of recycled PET plastic. 
Also, a unique rear screen enhances visibility for fellow drivers and can be used for advertising purposes. As a modern means of public transport, Dancer features connectivity for passengers via Wi-Fi or USB, an electric ramp for disabled riders, as well as a customizable workplace for the driver.
The Golden A' Design Award is a prestigious award given to top 3% designs that have delivered an exemplary level of quality in design. Entries to the A' Vehicle Design Awards are peer-reviewed and anonymously judged by grand expert jury panel formed by International Design Academy (IDA) and consisting of leading academics, important press members, and experienced professionals. Nominated vehicle designs are voted on pre-determined evaluation criteria to highlight only the top vehicle design works. In addition to reaching top international media, A' Vehicle Design Award winners are listed at World Design Rankings, which are highlighted at Design Classification platform and are showcased at DesignMag.org which lists the best designs from all countries in all disciplines.
Learn more about Dancer's winning entry here.