News & Events
Watch our activity in one place
Dancer electric buses starting to serve Klaipeda transport routes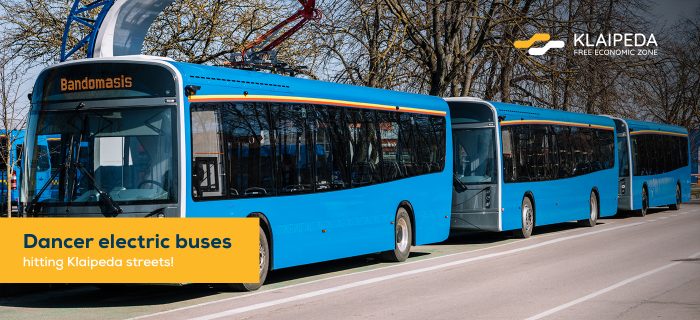 The municipality-owned Klaipeda bus company completed the acquisition procedures of two Klaipeda FEZ-made Dancer electric buses, developed by Vejo Projektai. This week, Klaipeda bus company drivers are testing these novel buses, and they will be officially deployed to serve route No. 8 right after the Easter weekend.
"This project will enter Klaipeda's history," says Vytautas Grubliauskas, the mayor of Klaipeda. "The ambitious Dancer bus project united a broad array of Klaipeda talent from the areas of transport, business and the public sector, as well as from the Klaipeda University. Everyone who contributed to Dancer can be proud today. The vision of having a Klaipeda-made, street-worthy electric bus may have seemed distant in the beginning, but we're witnessing it becoming a reality today. As a Klaipedian, I'm tremendously proud today and I am certain that it is only the beginning as Klaipeda-made buses will promote our city way beyond Lithuania".
The buses were acquired by the city municipality via the public bus company under the EU directives and the National air pollution reduction scheme by the Lithuanian government.
"Our company invests in environment-friendly transport since 2007. We were the pioneers of CNG buses in Lithuania. Today, more than two-thirds of our buses are CNG-powered. But we're opening a new page of our history this week with pioneering in the area of electric buses," states Vaidas Ramanauskas, the CEO of Klaipeda Bus Park.
Dancer can hold up to 93 passengers, it has 32 seats and a designated place for one handicapped passenger. The bus is fully equipped with comfort measures such as a modern AC system, high-speed wireless internet, USB sockets and an extendible ramp for wheelchair access. The bus also provides comfortable features for drivers such as night vision cameras transmitting 3D simulation of the surroundings to monitors that replace mirrors.
Dancer also features many technical novelties. Its rigid and secure body is made of composite materials that include recycled PET bottles. The electricity for Dancer buses is purchased exclusively from wind farms. Dancer is also considered to be extremely energy efficient, nearly vibration-free, has advanced noise reduction measures and is the lightest among its counterparts.
"I'm taking the liberty to compare Dancer with the revolutionary Tesla. We both rethought the essence of our vehicles that allowed us to discover novel technical possibilities. By the way, one can charge Dancer 15 times faster than a Tesla, yet our bus consumes only 3 times more energy than a Tesla and can transport 20 times more passengers than a Tesla. I believe the environmentally friendly Dancer buses in Klaipeda streets are a major advancement. I wish ourselves, as well as manufacturers, scientists, Klaipeda bus company and the city municipality to go even further," said Alvydas Naujėkas, the CEO of Vėjo Projektai, a company producing Dancer buses.
Dancer has also built a fast-charging station for its buses near the Klaipeda bus terminal. It can fully charge a bus in less than 10 minutes – in line with the drivers' resting time. This charging time is among the fastest in the world, and a full charge permits a 90 km range.
Experts suggest that the maintenance of electric buses is three times cheaper in comparison with diesel alternatives, and the Dancer buses purchased by the Klaipeda bus park received a 15 years warranty.