Our electric wiring system providers have just moved in to Klaipeda FEZ. This is great news to us. Now we can brainstorm and develop new systems over the morning coffee.
Alvydas Naujekas
CEO
The main reason why we chose the Klaipeda FEZ were the favorable conditions for an immediate start – we acquired a land plot with building permits and launched in 6 months after signing the contract
Jevgenij Sakovskij
CEO

Philip Morris International is one of our biggest clients. And it is definitely saves everyone's time and money to be next door to your clients.
Algimantas Bluskis
CEO
We are located at the hottest Plastics PET location in the region. Our largest competitors Neo Group is just next door. We had times when we shared raw materials to help each other. Industry neighborhood does wonders to your business growth.
Jitendra Kumar Malik
CEO

Explore fez
FEZ connectivity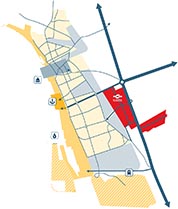 FEZ masterplan
FEZ development vision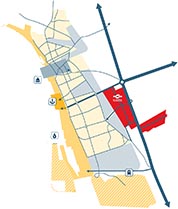 Klaipeda FEZ presentation
Explore our quick overview of Klaipeda FEZ advantages and your opportunities with us
Download PDF
Facts & Figures
Lithuania is ranked #1 the most attractive location for manufacturers in Europe and #2 in the world by Manufacturing Risk Index 2018. And Klaipeda is the hub for manufacturing in Lithuania. See our figures to get a better picture. And if you need more of any specific data – let's talk.
Lithuania
With one of the fastest growing economy and productivity rates in the EU, the country has all the right figures to make the bottom line work for any manufacturing business.
GDP: 2014 3.5% / 2015 1.8% / 2016 2.3% / 2017 3.9%

Source: Bank of Lithuania, 2018

Member of European Union and NATO, part of Eurozone and Schengen area.
Global rankings:
Highest ranked employee motivation level in CEE countries
16th for ease of Doing Business

Source: World Bank, Ease of Doing Buisness, 2018

19th for Economic Freedom

Source: Heritage Foundation, 2018

41st at Global Competitiveness Index

Source: World Economic Forum, 2017

Exports [change on preceding year]: 2014 3.5% / 2015 -0.4% / 2016 2.9% / 2017 10.4%

Source: Statistics Lithuania, 2018

50.4% or 2nd highest in the EU share of youth [25-29yrs] with tertiary education
84% proficiency in English

Source: Population census, 2011

4th in the EU for Bachelors graduates in science, maths, computing, engineering, manufacturing and construction
Average salary: 820 Eur

Source: Statistics Lithuania, 2018

Labour force productivity: Lithuania 4.4 / EU average 1.5 / Poland 3.2 / Latvia 3.9 / Germany 0.7
Taxes: 0% income tax for 10yrs and 7.5% for next 6yrs and 0% real estate tax in Free Economic Zones.
Wifi: Highest internet speed in CEE

Source: Global Competitiveness Report, 2016-2017

and 8th globally for overall mobile internet speed

Source: Open Signal, 2017
Klaipeda Region
Over 47% of people in the region are younger than 40yrs old and more than 20% of the working population have skills in manufacturing, logistics and construction. And that's only part of the story, see below for more information on why Klaipeda works so well for manufacturing.
Population, 2018: 317, 471

Source: Statistics Lithuania, 2018

Klaipeda city – 2nd youngest city in Lithuania with 47% of population is less than 40yrs old
Working population, 2018: 160,100

Source: Statistics Lithuania, 2018

20% employees in manufacturing

Source: Statistics Lithuania, 2018

Structure of skills & qualifications 2016 : Manufacturing 19,6% / Education 13,1% / Transport & storage 12,6% / Wholesale, trade and repair of motor vehicles 11,1% / Health & social care 10% / Construction 8%

Source: Statistics Lithuania, 2018

Secondary and tertiary educational institutions : 16

Source: Ministry of Education and Science, 2018

Number of students in 2016: 15,100

Source: Ministry of Education and Science, 2018

Non mother-tongue languages spoken: 97% Russian, 56% English, 21% German

Languages in Lithuanian Cities, 2014

Unemployment rate: 6,4%

Source: Statistics Lithuania, 2018

Average wages: 818Eur

Source: Statistics Lithuania, 2018
More details on Kalipeda's region can be found www.klaipedaid.lt or talk to us.
Klaipeda FEZ
We are the first, most successful FEZ in the Baltics and the largest tax-free zone in Lithuania. In 2017 we were recognized by The Financial Times for having the world 's fastest on-site operation launch for our clients. See our numbers where we are today.
Start of operations: 2002
Total area: 412 ha. Full masterplan can be found here
Business community: 100+ companies
Anchor tenants: 30+ / List of major companies can be found here
No. of countries represented:17
Jobs created:5400+ [5.4 percent of Klaipeda's working population]
Investment attracted since start of operations to 2018: 634M Eur.
State investment: 6,4M Eur.
Revenue generated by investors in 2018: over 1,2bn Eur.
Export in 2018: over 610M Eur.
Contribution to National GDP: 2,5-5%
Awards and achievements:
– 1st place for Quick Launch Award 2017 / fDi Magazine Global Free Zones of the Year 2017
– Commended for local cooperation at Global Free Economic Zone of the Year 2015
– 5th place for Best Facilities and 19th in overall ranking at the Global Free Economic Zones of the Year 2010 by fDi Magazine