News & Events
Watch our activity in one place
NEO GROUP started to produce PET resins with 25% recycled secondary raw materials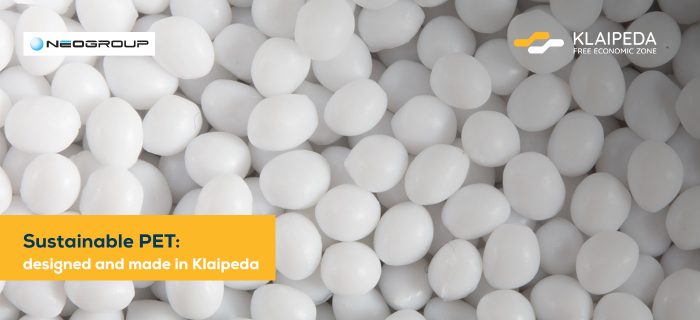 At the beginning of this year, UAB NEO GROUP, a PET producer operating in Klaipėda FEZ, produced and sent to customers for testing the first PET resins which were manufactured using up to 25% of recycled raw materials. The company predicts that the commercial application (packaging) of this fully circular product will be presented to the market by converters in early May. In the next 3-5 years, NEO GROUP plans that recycled PET will account for 25-30% of the total production. 
From the very beginning of NEO GROUP's operations, only fossil raw materials have been used for the production of PET resins. However, by monitoring the market trends and preparing for the EU directive that will come into force in 2025, back in 2019, the company started experimental research in the laboratory by using the secondary, i.e., recycled PET (rPET) in the production process. After a year of trials, in 2020, on one production line NEO GROUP successfully produced food-contact PET resins with 15% of rPET, which in terms of quality and technical parameters were in the same high level as the primary raw material. And this year – PET resins with 25% rPET.
Ruslanas Radajevas, CEO of NEO GROUP, comments that this achievement is important for the company for several reasons: the company contributes to sustainability and environmental goals, enables its customers to prepare in advance for coming future requirements, allows its customers to use more sustainable raw materials without changing existing equipment, and most encouraging point –  the technology for using rPET in production was not purchased, but 100% developed by NEO GROUP's team – Klaipėda engineers, technologists and scientists. Therefore, NEO GROUP did not purchase the patent rights, but is currently patenting its own developed process technology in the EU itself.
"Back in 2011 we installed a technology that allows the by-products of PET production process to be chemically recycled into polyester polyols, which are widely used in the construction industry. This experience and know-how have helped us a lot over the past few years in the development of the technology for using rPET in our PET resin production process: our technologists have adopted a market-unique way to dissolve, purify and use secondary rPET material in our production lines. We plan to start commercial delivery of our new product, trademark NEOPET CYCLE, in May", says Ruslanas Radajevas.
According to him, it is planned to start the production of PET resins with 25-30% of rPET on the other two production lines in 2023-2025, depending on the availability of secondary raw materials and customer demand increase: the major European beverage producers are currently preparing for the EU directive that will enter into force in 2025, but some producers will only start their preparations in 2023 or even 2024.
"The information about our customers, who are testing the new product, is confidential, but are glad that the first commercial production with our raw materials will be started by a member of our group, the manufacturer of PET preforms, UAB RETAL Lithuania. Therefore, we can be proud that the exclusive PET resins created and manufactured in Lithuania will be used in the production of PET preforms by a company operating in Lithuania and only then they will enter other markets," says the head of NEO GROUP.
According to Ruslanas Radajevas, the current technology of the company with additional investments in equipment gives the opportunity to reach up to 50% of the secondary raw materials – the NEO GROUP team is further developing this direction, especially, having in mind that the EU will require a 30% of rPET content in beverage packaging starting from 2030. However, according to NEO GROUP, the shortage of secondary raw materials in the EU market remains a challenge, which makes it necessary to further strengthen the ecosystem for the collection of post-consumer packaging and society education.
Minister of the Environment, Simonas Gentvilas, congratulates NEO GROUP for the achievement. According to him, this is a great example of Lithuanian industry, when real leadership of the green course is taken and innovations in the use of secondary raw materials are created much earlier than it is required by the EU.
"This involvement of secondary raw materials into production process will undoubtedly give NEO GROUP a unique competitive advantage in the market. A well-functioning Lithuanian deposit system enables clean secondary raw materials to be returned for the second life, and we expect industrial investments into such bold and early solutions only having sufficient quantities of well-sorted waste. Everyone can contribute to this change, therefore the Ministry of Environment is planning significant changes in the organisation of the secondary raw materials and packaging system this year," says Simonas Gentvilas.
According to Artūras Razbadauskas, Rector of Klaipėda University, the achievement of NEO GROUP sends a strong signal to the city's academic community regarding the practical opportunities of developing the green economy direction. According to him, NEO GROUP has proved that innovations and research in the fields of sustainable technologies, material recycling, organic chemistry and related areas have enormous commercial potential, can solve global problems and glorify Lithuania as a leader in this field.
"We are glad to know that this meaningful innovation was born in Klaipėda, and NEO GROUP does not buy foreign patents and inventions, but patents Klaipeda-made ideas. Additionally, the achievement of NEO GROUP is being developed in the priority area of ​​the circular economy supported by the EU. This is a signal to further strengthen the academic community and various partnerships with entrepreneurship in this field," says prof. dr. Artūras Razbadauskas.
UAB NEO GROUP is one of the largest producers of polyethene terephthalate (PET) resin in Europe, located near the Klaipėda. It started its activities in Lithuania in 2004 and still is the largest greenfield investment in Lithuania. Currently, the factory produces over 450 thousand tonnes of PET resins annually, corresponding to 14% of total European production of PET resins for food and beverage packaging.