News & Events
Watch our activity in one place
2020 – The year of accelerating science and business partnership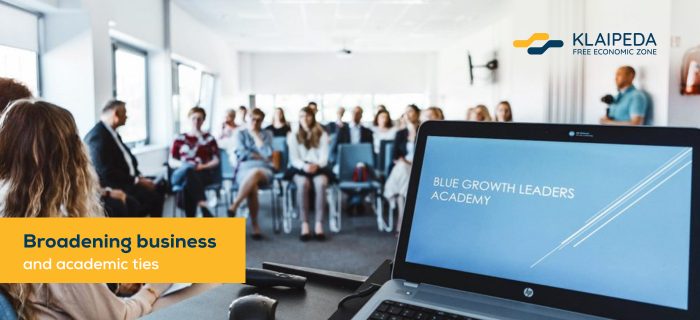 The launch of the Lithuanian Maritime Cluster and Blue Growth Leaders Academy, centre of excellence and international scientific experiment projects, conferences, a biotech start-up accelerator and dozens of meaningful partnerships – all this marked this exceptional year for Klaipėda's science and business partnership. The team at the Klaipėda Science and Technology Park (KMTP) notes that, despite all its challenges, 2020 neither stopped innovation development processes nor events and joint science-business initiatives.
One of this year's most important highlights was the founding of the Lithuanian Maritime Cluster, KMPT reports. The group's main focuses are on alternative fuel infrastructure and technologies, ports and cargo handling, shipbuilding, repairs, and maritime energy generation.
The Maritime Cluster and KMTP, alongside Klaipėda University and the economic development agency Klaipėda ID, also introduced the unique Blue Growth Leaders Academy programme this year. The partnership successfully attracted world-renowned researchers and practitioners from Norway, Sweden, Germany, the UK, and other countries. Since autumn, they have cooperated to share knowledge about shipping, ports, biotechnologies, and other prospective areas.
For the Klaipėda Science and Technology Park, 2020 was very active in terms of projects, continuing eight national and international level projects and launching four new ones.
"When participating in projects, we are always mindful of Klaipėda and our region. Our results this year, achieved with our international partners, bring practical benefits to our companies," said Andrius Sutnikas, head of business development at KMTP.
In collaboration with partners from the Ecoprodigi project and international experts, a comprehensive review was written in 2020 that, through lens of the digitisation of the maritime industry, presents not only an overview of the existing situation but also offers businesses especially relevant insights about future technology trends, with a focus on ro-ro shipping and processes in the shipbuilding sector.
The opportunities offered by digitisation were presented in the same framework of the project and for practical application by AB Vakarų Laivų Gamykla's Western Baltic Engineering specialists, using 3D scanning technology. In order to evaluate the level of business digitisation in the Klaipėda region, a special company audit was performed in 2020, which helped assess the real situation and identify areas particularly receptive to innovative solutions.
KMTP also presented an international biotech accelerator programme with its partners in 2020.
A signal for investors
The head of the Klaipėda Free Economic Zone (FEZ) Eimantas Kiudulas agrees that this was an active year for science and business partnerships, as well as others. According to him, it is heartening that the city has found consensus on the direction of its strategic development, understands its strengths and opportunities, and sees the value of cooperation. He points out that all this is a good signal to investors, showcasing the potential of both the labour market and the city's institutions in developing high added value operations.
"In the Klaipėda FEZ community, this year, we would often say that we are stronger together. It is excellent that this approach can also be seen in other organisations in Klaipėda, and the public and academic sectors. Indeed, at the global level we are a small city, and thus it is our specialisation, our high added value, our effective community and smooth processes, that are and can be ever-greater competitive advantages for us. This year, the Klaipėda science ecosystem's activities were truly prominent, and so I wish for this to continue. Meanwhile, the Klaipėda FEZ community commits to continue to offer full support for opportunities to realise ideas on the business market," E. Kiudulas says.